[ad_1]

Fourteen Republican Senators on Thursday voted against a proposed bill that would expand health care for veterans of the US military.
The US Senate passed the Sergeant First Class Heath Robinson Honoring Our Promise to Address Comprehensive Toxics (PACT) Act of 2022 in a bipartisan effort to address health care, research, resources and more for veterans exposed to toxic substances during military service. All Democrats voted for the bill.
Republican Senators Roger Wicker of Mississippi and Steve Daines of Montana did not vote. The bill now heads back to the House before going in front of President Joe Biden.
A spokesperson for Daines told Newsweek he was not present to vote due to the catastrophic floods in Montana and assessing in-state damage with the Federal Emergency Management Agency.
The bill provides mental health services, counseling and other forms of medical care through the Department of Veterans Affairs (VA). Veterans eligible for such care include those who "participated in a toxic exposure risk activity," which is designated as a required "qualifying activity" as part of an exposure tracking record system.
Other veterans made eligible include those who served in "specified locations on specified dates," or were "deployed in support of a specified contingency operation."
Heath Robinson was an Ohio National Guard soldier who was deployed to Kosovo and Iraq and died in 2020. His family has spoken out about what Robinson experienced, including developing stage-four lung cancer likely caused by prolonged toxic exposure, according to an oncologist.
Veterans who are likely to benefit from the legislation include those affected by Agent Orange, in addition to the approximate 3.5 million post-9/11 veterans exposed to burn pits during deployments.
The Senate Republicans who voted against the bill include: Richard Burr of North Carolina, Mike Crapo of Idaho, James Lankford of Oklahoma, Mike Lee of Utah, Cynthia Lummis of Wyoming, Rand Paul of Kentucky, James Risch of Idaho, Mitt Romney of Utah , Mike Rounds of South Dakota, Richard Shelby of Alabama, John Thune of South Dakota, Thom Tillis of North Carolina, Pat Toomey of Pennsylvania and Tommy Tuberville of Alabama.
Senators Jon Tester, a Montana Democrat, and Jerry Moran, a Kansas Republican, introduced the bill. On the Senate floor on Wednesday, Tester said Congress had "a chance to do the right thing by their families and future generations of our all-volunteer military."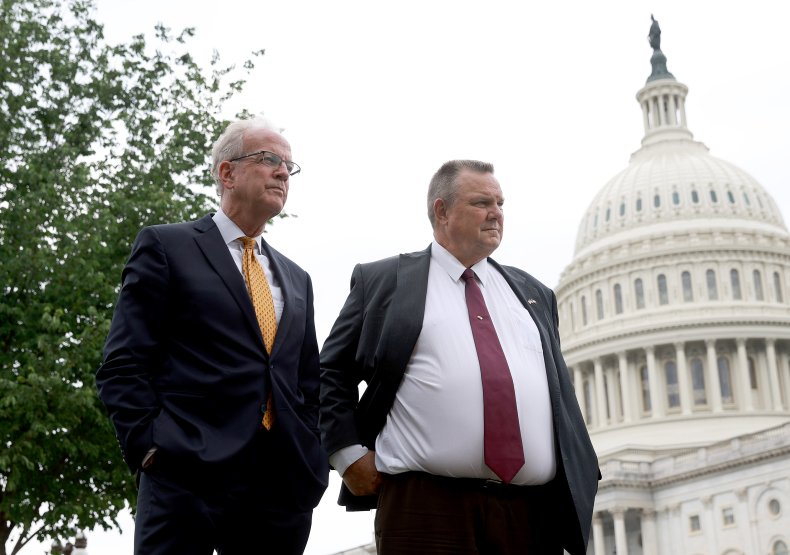 "Let me be clear: This bill isn't about Democrats versus Republicans," said Tester, chairman of the Senate Veterans' Affairs Committee. "It's not about political posturing. It's about Americans standing up for those who have served and sacrificed on behalf of this country and the freedoms we have today.
"In fact, it's even more than that. It's about righting a wrong that has been ignored for too damn long."
Moran, in his own statement released Thursday, called the legislation a "priority" for both he and Tester and thanked the senator across the aisle for his leadership. Moran also thanked Heath Robinson and all veterans for their input on the "long-overdue bill."
"As a nation, we recognize the physical, obvious wounds of war," Moran said. "We are improving our ability to recognize and treat the mental wounds of war, though we still have a long ways [sic] to go. No longer can we ignore the wounds of war from toxic exposures. Veterans suffering from toxic exposures have been relying on a broken system cobbled together through decades of patchwork fixes that often leaves them without health care or benefits."
The White House also released a statement on behalf of President Joe Biden, commending the "remarkable work" of Tester and Moran and encouraging the House to "swiftly" pass the bill so it can be made law.
The president described the PACT Act as the "largest single bill in American history to address our service members' exposure to burn pits and other toxic substances."
"This bill will provide expanded access to health care and disability benefits for veterans harmed by certain toxic exposures, whether in the jungles of Vietnam or the mountains of Afghanistan," the statement read. "It will also let the Department of Veterans Affairs move more quickly and comprehensively in the future to determine if illnesses are related to military service, and it will offer critical support to survivors who were harmed by exposures, including from water contamination at Camp LeJeune. "
The American Legion, the nation's largest veterans organization, also praised the Senate for bill passage.
"Today, the US Senate has saved lives and truly delivered for veterans," American Legion National Commander Paul E. Dillard said in a statement. "By passing the Sergeant First Class Heath Robinson Honoring Our PACT Act, the 117th Congress has put substance behind the phrase, 'Thank you for your service.'
"The American Legion is grateful for the service of millions of veterans who were exposed to burn pits, atomic radiation, Agent Orange and other environmental poisons. Thanks to the US Congress, these men and women will be able to receive the care and benefits they have earned," the statement continued.
VA Secretary Denis McDonough previously said in a statement attained by Newsweek that the bill "would codify many of the ongoing efforts by the department to improve its process for establishing presumptions of service connection due to toxic exposure, reducing the burden for veterans and increasing transparency."
"We support the expansion of access to VA health care in the PACT Act and will work to ensure that the expansion of eligibility for health care does not result in the delay or disruption of care for those Veterans already receiving health care from VA," he added.
Jon Stewart, who has been outspoken in providing veterans with assistance and benefits, last month questioned Americans' real affinity for veterans at a Memorial Day event in Washington, DC
Update 6/17/22, 12:37 pm ET: This story was updated with a comment from a Daines spokesperson.


[ad_2]

Source link