[ad_1]

American veterans training Ukrainian front-line troops have told Newsweek that US and other NATO weapons can turn the tide against invading Russian forces, warning that defenders face a "dire" situation as Russia focuses on battles raging on the eastern front.
Two members of the American Mozart Group—founded by former Marine Corps Colonel Andy Milburn and a play on the name of the infamous Russian mercenary Wagner Group—speaking from Ukraine that locals there are motivated but risk being overwhelmed without more Western weapons; particularly modern and long-range artillery systems.
"It's a bit of a slugfest," explained Martin Wetterauer, a former Marine Corps colonel who spent time in the Joint Special Operations Command and served tours in Bosnia and Herzegovina, Iraq, and Afghanistan in his more than 30-year military career.
"If we can increase their skill set, then ultimately over time hopefully they'll get better and more advanced weapon systems," Wetterauer—now Mozart's chief operations officer—said of Ukrainian troops. "With the fighting spirit that they have, there's no doubt they will turn this war. It's just going to take a while."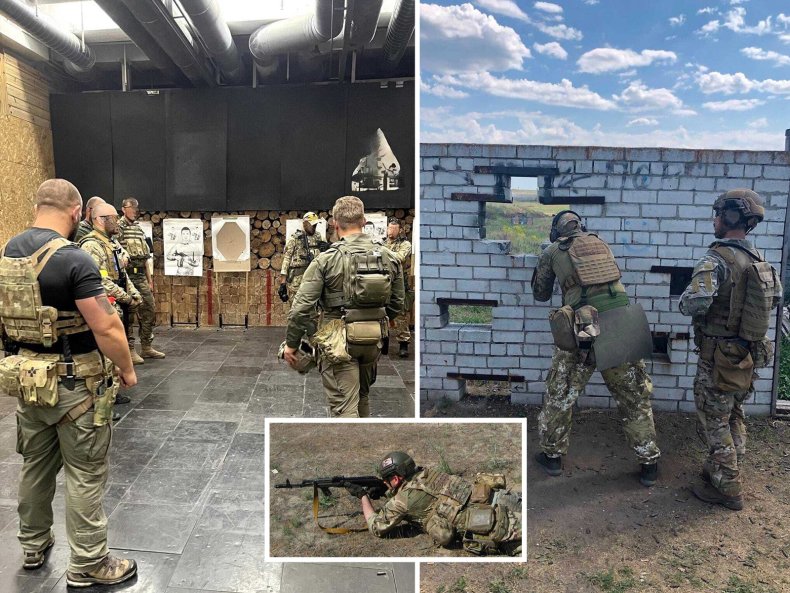 Wetterauer spoke by phone from the Ukrainian city of Zaporizhzhia having just finished training a group of Azov Battalion fighters headed to the eastern front.
"These guys go from being civilians at the start of this war to now soldiers fighting in trench warfare against the Russians," he explained. "They believe they are all going to be Ukrainian heroes when this war is over, because they plan on taking every inch back."
Mozart Group volunteers are drawn from militaries around the world. Steve K—who did not want to share his full name—is one of Mozart's operations officers. He told Newsweek from Kyiv that the current crop of between 10 and 20 volunteers includes special forces veterans from the US, Australia, and Estonia.
Trainers, Steve said, are focusing on the basic fighting skills that will help Ukrainian troops survive. "You don't know the basics, you can't do anything," said the Marine Forces Special Operations Command veteran, whose combat tours included Iraq and Afghanistan during his 23 years in service.
Among the Mozart Group training is instruction on ambushes, trench warfare, and raids; all central elements of the fighting which speak to the intensity and varied nature of the combat in the east.
"If you're not thinking, you're dead," Steve said. "We try to get them to think, to know, and understand by giving them the basics and showing them different techniques and how they can apply them to different situations."
Attrition Warfare
Russia's invasion of Ukraine—now in its 111th day—has been concentrated on the eastern Donbas front, where the invaders hope to seize the Luhansk and Donetsk oblasts that have been split between government and separatist forces since 2014.
There, Russia has massed artillery units and is seeking to overwhelm the defenders. Casualties are high on both sides. Ukrainian President Volodymyr Zelensky has said that up to 100 defenders are being killed every day.
"What has really changed is Donetsk and Luhansk," Steve explained. "They have moved into areas and they've shortened their supply lines. They have they're moving through areas that since 2014 have been under Russian and separatists control…They have the ability to bring in as much artillery and rockets as they can."
The fighting has evolved into intense and costly attritional combat, the veterans explained.
"They'll attack and they'll do a frontal assault," Steve said of Russian units. "The Ukrainians will machine gun them down, World War One shit. The machine guns will all get identified by observers in tanks, they'll move the tanks up, they'll use artillery and they'll pummel all the machine gun positions. "
"The Russians are sacrificing and they're doing this attrition warfare," he added. "They're sending these young kids and whoever else they have to be cannon fodder…It's attrition warfare. It's World War One. It can't win."
The Russian advance is slow but significant. Ukrainian forces are in a bind, their leaders constantly urging EU and NATO nations to send more potent and more regular military aid.
"The attrition is working against them," Steve said. "You can see the apprehension and the anxiety amongst some of the guys that you work with and you train…There is some fear that if they don't get what they need, it might not go the right way."
Artillery Duels
Artillery is particularly important. Russian guns largely outrange the Ukrainians, and the invaders reportedly have many more times the ammunition as the defenders. The lack of air cover for the Ukrainian side is also punishing.
"It has a pretty big effect on their morals," Steve said. "You sit in the trench, you've got artillery raining down on you. You don't know what the hell's happening. So I can only assume that it's pretty shitty up there."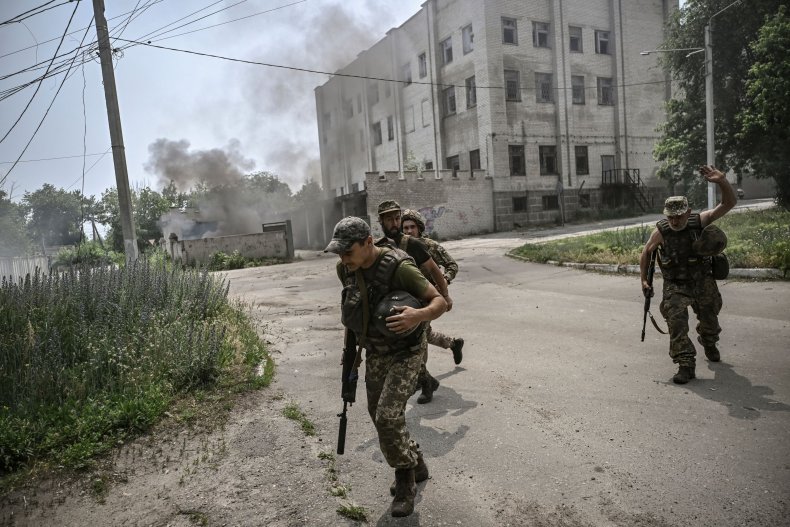 "They need the artillery, they need rounds," Steve explained. "If we do not continue with that supply, they won't be able to hold them back," he added, noting the much-vaunted US-made Multiple Launch Rocket System and High Mobility Artillery Rocket System would be "big game-changers ."
Wetterauer competed. "They can't stand the artillery," he said of the Ukrainians he has worked with "They know that's just devastating." NATO artillery systems and aircraft, he added, would be vital to root Russians out of prepared defensive positions in the dense Donbas treelines.
Both veterans said they think Ukraine can win, but only if it gets the support it needs.
"A lot of guys think that a lot of Russians that they're facing don't really want to be there," Wetterauer said. "They believe that the Russian soldiers are finally figuring out that they've been lied to."
"They know that the Russians are certainly as capable as they are. You know, and they certainly don't estimate that the Russians can't kill them, they've lost quite a few friends."
"Winter is going to be brutal if they're still slugging it out in the trenches," he added. "There's probably a good bit of truth to a fair amount of Russians probably aren't as motivated as they were 110 days ago."
"These sorts of things don't go well for a dictator, when you start losing on the front," Wetterauer said. "I think that's going to cause a huge amount of internal stress inside of Russia."
Newsweek has contacted the Russian Foreign Ministry to request comment.
Russia has changed tactics and achieved limited success. But the rot is deep, Steve said, suggesting a force with such problems cannot inflict a significant defeat on the Ukrainians.
"They expected to be welcomed with open arms," ​​he said. "What kind of military plans for the easiest way to win a war? That is an unprofessional military force."
"We have American and NATO intelligence people who are eating crow because all these years of pumping everybody up in the American military saying how good the Russians were, and now we have a second rate Ukrainian army who's kicking their ass."
[ad_2]

Source link